Zen meditation retreat with Zen Master Soeng Hyang   (Barbara Rhodes)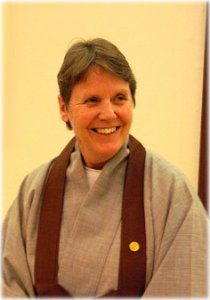 We will have a weekend retreat with Zen Master Soeng Hyang (Barbara Rhodes) on January 7th through January 10th at  Bo Hyun Sa Temple.
Zen Master Soeng Hyang (Barbara Rhodes) is the School Zen Master and Guiding Dharma Teacher of the Kwan Um School of Zen. She received dharma transmission from Zen Master Seung Sahn on October 10, 1992. She was one of Zen Master Seung Sahn's first American students and studied with him since 1972. She was given inka in 1977. A registered nurse since 1969, she works for Hospice Care of Rhode Island. She helped found Providence Zen Center, and lived there for seventeen years, serving in a number of administrative capacities.
The retreat begins with orientation on Thursday, Jan 7th at 7:30 pm and ends with a circle talk on Sunday, Jan 10th at 10am. Feel free to attend Korean services at 10:30am and lunch at noon.
See the Retreat Orientation for schedule.
Prices:
Non-Members $55/day
KUSZ Members $40/day
Dharma Teachers $30/day
Prices include overnight housing, formal vegetarian meals, and private interviews with the Zen teacher. Limited scholarship or alternative methods of payment may be available for those in need.
Download this Retreat Orientation for more information.
Register for this retreat:
OR

REGISTRATION INFORMATION
When registering, tell us your name and when you will be entering & leaving the retreat. Also, let us know about any special arrangements you need. You can register for 1 day, 2 days, or for the entire retreat.